Welcome to MAAC2019
Here you can learn about the upcoming Educational Conference to be held May 17th and 18th, 2019. Register online today
Register Online Now

Timely CE Courses
For Missouri Appraisers

Register Today
Click here to register.

At Capitol Plaza in Jefferson City
The 2019 MAAC Educational Conference is coming soon!
This year's schedule is as follows:
Friday, May 17th, 2019
7:30AM
Enjoy complimentary coffee and donuts
before class. Please arrive early to sign in.
8:00am-11:30am
Commission Presentation:
This presentation will discuss the process of developing adjustments through market extraction and provide examples of methods and techniques for extracting adjustments from the market in an interactive format with participants.Gain 3.5 hours CE for free! Partcipants must register to attend this popular seminar.

1:00pm-4:30pm
My Client- The FBI & What the Federal Reserve Knew Before the Crash
Instructor Donald J. Gossman, SRA
3.5 hours CE
Saturday, May 18th, 2019
8:00AM-4:00PM
USPAP Update
Instructor Sharon Lowman, SRA
7 hours CE
8:00am-4:00pm
Basic Construction Referesher
Co-Instructors: Ernie Demba, FASA, IFAS, FRICS, PE
and David Doering, ASA, IFA
7 hours CE
Look for your brochure in the mail.
Brochures are being mailed April 4th, 2019. Look for yours in the mail!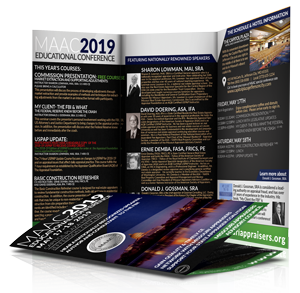 Download previous conference brochures here.